Google Cloud Interconnect & Colt
Secure and reliable connectivity to Google Cloud services
Establish private connectivity from your data centre, office or co-location environment to reduce your network costs, increase bandwidth throughput and provide a more consistent network experience than Internet-based connections.
Under our Direct connect service, we can provide secure and reliable network connectivity between enterprise data centres or office locations and Google Cloud.
Colt is a trusted connectivity partner with Google Cloud Interconnect, and we provide Ethernet connectivity services (and on request a managed router add-on) to Google Cloud Interconnect private network access points. Colt is also able to provide a seamless integration of Google Cloud Interconnect into our SD WAN network solutions (and on request for our IP VPN solution).
With our cloud connectivity solutions, customers can choose to connect to a single cloud provider (point-to-cloud), or to multiple cloud providers (point-to-multi-cloud). Our solutions also support cloud-to-cloud connectivity options.
Benefits of a secure connection to your Google Cloud:
Secure and private connections
The traffic between any enterprise site and Direct connect access Point of Presence is routes entirely across the Colt network, so that customers can be assured that their mission critical traffic is safe in our hands
An intelligent cloud with an intelligent network
Colt's award-winning network services are provided with a high degree of resilience. Moreover, customers have a number of enhanced configuration options for Disaster Recovery and High Availability purposes.
Flex bandwidth in line with unpredictable demand
Colt operates one of the lowest latency networks in Europe and Asia, so data is routed over the lowest-latency paths to the cloud, to create the most seamless performance possible.
Guaranteed latency & SLAs
Making your traffic independent of the internet means that your customers and your business users can enjoy consistent performance from your apps, without drops in performance that are out of your control
Faster and more secure networking
With our cloud connectivity services you get more choice than with just standard cloud connect: from a wide range of bandwidths, to several resilience and diversity options.
Get advice and help setting up the best, and most efficient, cloud network for your business with our dedicated, knowledgeable customer support team, with our 24/7 multilingual support facility which supports our service SLA. Our proposition is recognised every year by the Metro Ethernet Forum (MEF) as industry-leading.
Your hybrid cloud solution
Colt & Google make it easy to establish a dedicated network connection from your premises to your cloud through Google Cloud Interconnect.
Through the use of Colt's Dedicated Cloud Access (DCA) offering powered by The Colt IQ Network, Colt will be able to give customers a hybrid cloud networking experience that provides increased resilience, low latency and access to their core applications securely.
Colt's hybrid networking experience aligns with Google's Anthos platform, with both organisations knowing that enterprises are increasingly utilising hybrid cloud infrastructures, but not wanting to compromise when it comes to security or add complexity to their processes.
Colt Dedicated Cloud Access service is also available On Demand to disrupt and transform the users experience. Thanks to SDN technology, our customers benefit from real-time ordering, provisioning and service flexing through a self-serving portal.
This includes a range of connectivity options that have been customised for better integration into the Google Cloud, such as Point-to-Point Ethernet for customers who need to connect a single site, and IP-VPN for customers who want to share access across multiple sites.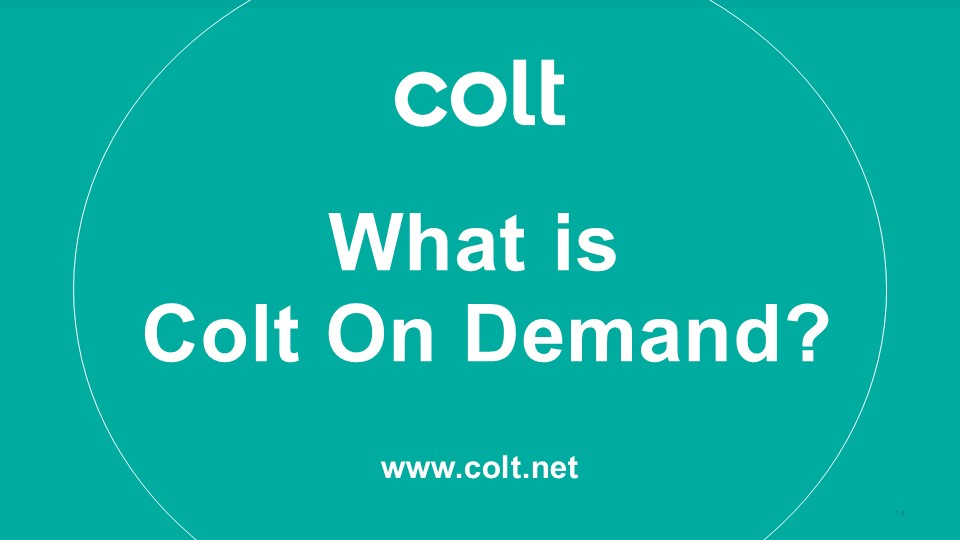 Accessing the Google Cloud
Google separates access points ("PoP") from the Data Centres ("regions") in which the services are housed.
Colt can provide direct fibre based connectivity into the majority of Google's PoPs in Europe, Asia Pacific and North America, which simplifies speeds provisioning, and provides optimum traffic routes for customers. Moreover, Colt addresses your business locations with connections into 212 cities globally. More than 29,000 direct fibre connected buildings and 900+ third party data centres. With Colt's worldwide connectivity network, we ease the way to connect your network into the cloud.
To find out more about our presence in these locations, send us an email or chat to an advisor
Colt cloud connectivity services include point-to-cloud and point-to-multi-cloud Ethernet cloud connectivity for customers who want to connect to a single customer site. Customers can also choose an optional 'managed router' add-on. For multi-site solutions, Colt SD WAN Multi-Cloud and Colt IP VPN enable direct, reliable and secure connectivity from branch sites to cloud service providers. These solutions also support cloud-to-cloud connectivity.
Colt supports both Google Cloud Interconnect Partner and Google Cloud Interconnect Dedicated.
The Google Cloud Interconnect Partner port supports up to 100Gbps bandwidth services. Colt DCA service is delivered including the cross connect towards the Google port.
The Google Cloud Interconnect Dedicated port supports up to 10Gbps bandwidth services and is fully delivered on request with a cross connect to Google that is dedicated to you.
Please find below the bandwidth options available:
Google Cloud Interconnect

Google Cloud Interconnect Partner

50Mbps-10Gbps

10Mbps-10Gbps

Google Cloud Interconnect Dedicated

10 or 100 Gbps

1Gbps-100Gbps
Get a custom-tailored quote for your specific cloud environment and networking needs.