Welcome to agile digital infrastructure
Imagine cutting-edge digital infrastructure that does exactly what you need, when you need it. Delivering access in minutes to a global fibre network, cloud providers and leading-edge applications.
You choose how you connect, wherever and however you want, through an award-winning portal, innovative APIs or as an extension of your own network.
It's end-to-end connectivity where you're in control.
Connection on demand – why wait?
Our interactive customer portal gives you full visibility and control of your network, allowing you to place new orders or request a change in minutes.
Only pay for what you need
On Demand supports a new flexible pricing model based on hourly billing. We also support a more traditional pricing model for customers who are not quite ready to make the move to flexible pricing
Colt On Demand is underpinned by the same carrier grade SLAs that are available across our wider product portfolio. Experience zero frame loss, consistent low latency and jitter-free, high quality network connectivity with 99.9x% service availability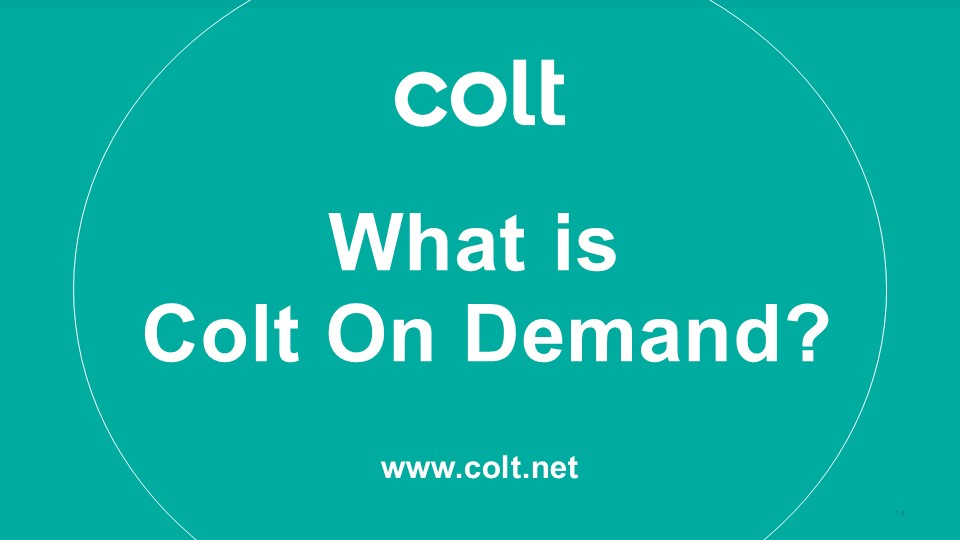 Learn more about On Demand
Colt On Demand supports point to point connections between data centres and enterprise offices, private connections to the public cloud and internet connectivity. On Demand is available in 51 cities across in 32 countries In Europe, Asia and North America. Customers can use On Demand to connect to over 900 datacentres, 29,000 enterprise buildings, 200+ cloud PoPs or the public internet.
Services are ordered via a customer portal that provides a faster/simpler order interface compared to traditional order forms. On Demand service bandwidths can be upgraded in near-real time, and with the innovative bandwidth flexing and bandwidth boost features services can be flexed up and down in line with customer demand.
The Colt IQ Network: A reliable, intelligent backbone
Our connectivity solutions are based on our intelligent Colt IQ Network, providing you with the best network for the best cloud experience. Get direct access to enterprise buildings and key data centres across Europe, Asia Pacific and North America.
Speak to a network expert
Colt has several On Demand solutions to connect your IT services easier and faster – even if they are in different cities or countries.
As your on demand network provider, we deliver value for many use cases, including, but not limited to: cost efficient business continuity, agile connectivity for urgent and temporary needs, bandwidth growth management, and enhancing the end-user experience in the cloud.
As a result, all your IT services, business-critical or not, can work together seamlessly and be up running in minutes.
Speak with our specialists today, for guidance and consultation.
For other ways to reach out, try our contact centre.
Welcome to On Demand
Join the On Demand revolution - see how to get up and running with our quick start guide. Read more...