A connected future – what does it mean for your business?
Today's network is built to deliver applications and services that didn't exist 10 or 15 years ago, designed for companies that may themselves only be a few years old and delivering products and services on devices that are changing the way we live and work.
In this guide, we look beyond the noise and headlines to assess four technology areas we believe will have the biggest impact on the networks of tomorrow. They have the potential to not only improve current processes and structures but to help meet the network demands of the future.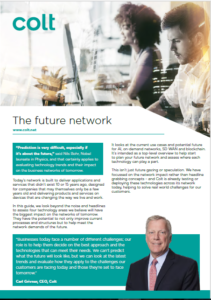 This report looks at current use cases and potential future for:
Artificial Intelligence (AI trends)
On-Demand networks
SD WAN (Software Defined Wide Area Networks) and SDN trends
Future of Blockchain
It's intended as a top-level overview to help you start planning your future network and assess where each technology can play a part.
This isn't just future gazing or speculation –  Colt is already testing or deploying these technologies across its network today, helping to solve real world challenges for our customers.
About Colt
Colt aims to be the leader in enabling customers' digital transformation through agile and on-demand, high bandwidth solutions. The Colt IQ Network connects 850+ data centres across Europe, Asia and North America's largest business hubs, with over 27,500 on net buildings and growing. Colt has built its reputation on putting customers first. Customers include data intensive organisations spanning over 213 cities in more than 30 countries. Colt is a recognised innovator and pioneer in Software Defined Networks (SDN) and Network Function Virtualisation (NFV). Privately owned, Colt is one of the most financially sound companies in its industry and able to provide the best customer experience at a competitive price. For more information, please visit www.colt.net.
Download your guide today