Is it time to redefine your approach to the cloud?
According to the Cisco Global Cloud Index, by 2021 94% of workloads and compute instances will be processed by cloud data centres. For enterprises it's long past the question of if they'll move to the cloud; but to what extent and when.
From flexible capacity and compute resource to the ability to quickly roll out and scale new services, the benefits of moving to the cloud are well documented. For the network, this changes the dynamic from it being simply a connection to the outside world to the life-blood of the business and a link that everyone depends on.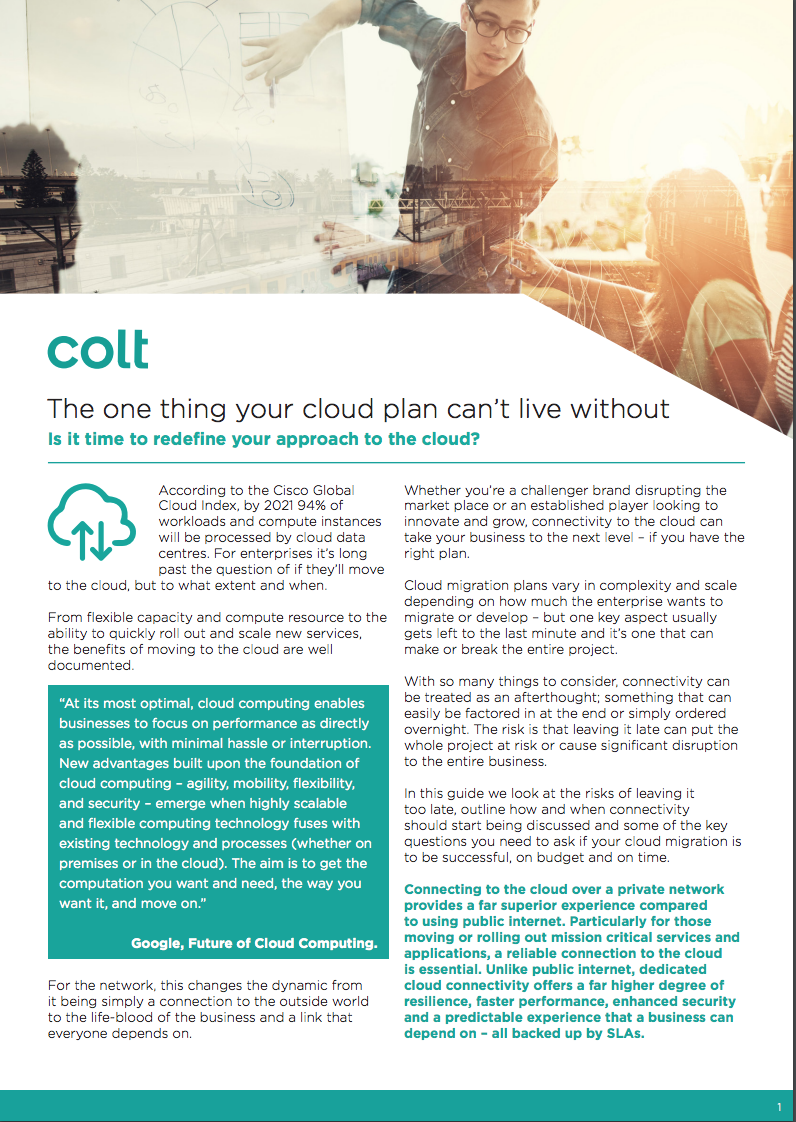 In our guide we look at:
The risks of leaving it too late
Outline how and when connectivity should start being discussed
Key questions you need to ask if your cloud migration is to be successful
How to deliver on budget and on time.
About Colt
Colt aims to be the leader in enabling customers' digital transformation through agile and on-demand, high bandwidth solutions. The Colt IQ Network connects 850+ data centres across Europe, Asia and North America's largest business hubs, with over 27,500 on net buildings and growing. Colt has built its reputation on putting customers first. Customers include data intensive organisations spanning over 213 cities in more than 30 countries. Colt is a recognised innovator and pioneer in Software Defined Networks (SDN) and Network Function Virtualisation (NFV). Privately owned, Colt is one of the most financially sound companies in its industry and able to provide the best customer experience at a competitive price. For more information, please visit www.colt.net.