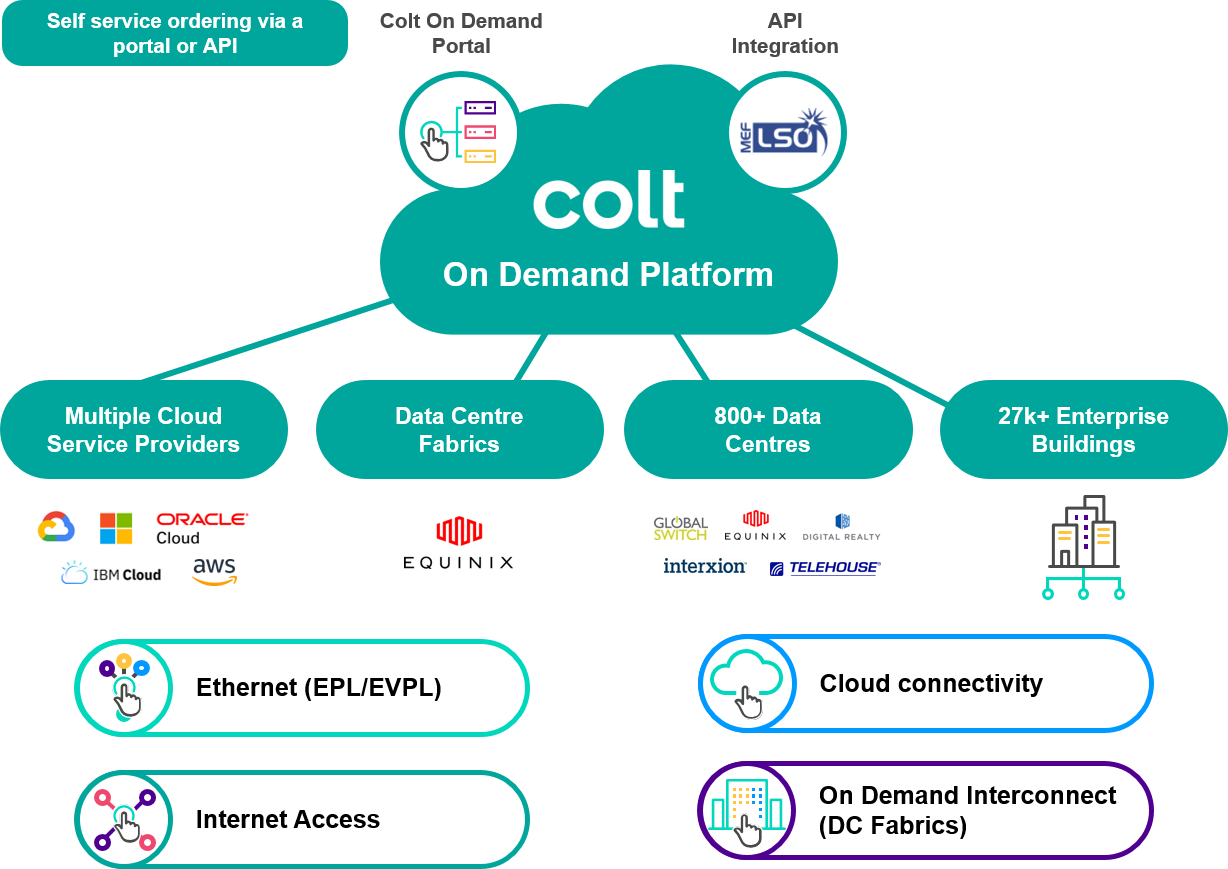 Welcome to the On Demand Knowledge Centre!
Colt On Demand is our SDN-enabled self-service platform that provides real time connectivity between data centers, enterprise buildings and cloud service providers in Europe and Asia Pacific and North America.
On Demand offers a number of benefits over traditional networking - including online ordering via a customer portal or API, rapid service delivery to data centres and clouds & flexible bandwidth options.
On Demand supports a range of commercial options including traditional multi-year fixed term contracts and short term flexible contracts.
Whether you are an enterprise or a wholesale/carrier customer, Colt On Demand can help improve your business.
Learn more about On Demand with our interactive video
Colt On Demand supports point to point connections between data centres and enterprise offices, private connections to the public cloud and internet connectivity. On Demand is available in 51 cities across in 24 countries In Europe, Asia and North America. Customers can use On Demand to connect to over 800 datacentres, 28,000 enterprise buildings, 200+ cloud PoPs or the public internet.
Services are ordered via a customer portal that provides a faster/simpler order interface compared to traditional order forms. On Demand service bandwidths can be upgraded in near-real time, and with the innovative bandwidth flexing and bandwidth boost features services can be flexed up and down in line with customer demand.
Let On Demand support your digital transformation journey
Many customers are finding that Colt On Demand helps them to support their digital transformation objectives. Placing orders for new services is easier than ever, connections to data centres and cloud are enabled in near real time and changes can be made to existing services via the click of a mouse.
Easy ordering, make a change in minutes
Our interactive customer portal gives you full visibility and control of your network, allowing you to place new orders or request a change in minutes.
Flexible or traditional pricing
On Demand supports a new flexible pricing model based on hourly billing . We also support a more traditional pricing model for customers who are not quite ready to make the move to flexible pricing
Carrier grade SLAs
Colt On Demand is underpinned by the same carrier grade SLAs that are available across our wider product portfolio. Experience zero frame loss, consistent low latency and jitter-free, high quality network connectivity with 99.9x% service availability
The Colt IQ Network: A reliable, intelligent backbone
Our connectivity solutions are based on our intelligent Colt IQ Network, providing you with the best network for the best cloud experience. Get direct access to enterprise buildings and key data centres across Europe, Asia Pacific and North America.