Colt Contact Centre as a Service
Easy to deploy, cloud omni-channel solution — to build meaningful customer relationships, with a remote workforce.
A contact centre is the central point where all customer interactions are managed, to provide effective and efficient support. Contact centre as a service (CCaaS) is a cloud-based solution that empowers companies to operate a virtual contact centre using cloud software.
This latest development optimises the experience for customers, by giving contact centre agents the ability to serve customers effectively from anywhere. This is essential to create meaningful customer relationships, as the expectation is a personalised experience at any time.
Some of the most common challenges faced by organisations, related to contact centres are:
Losing customers due to poor customer experience
Agents cannot perform their jobs effectively and are unproductive
Inefficiencies due to a complicated architecture with no integration between systems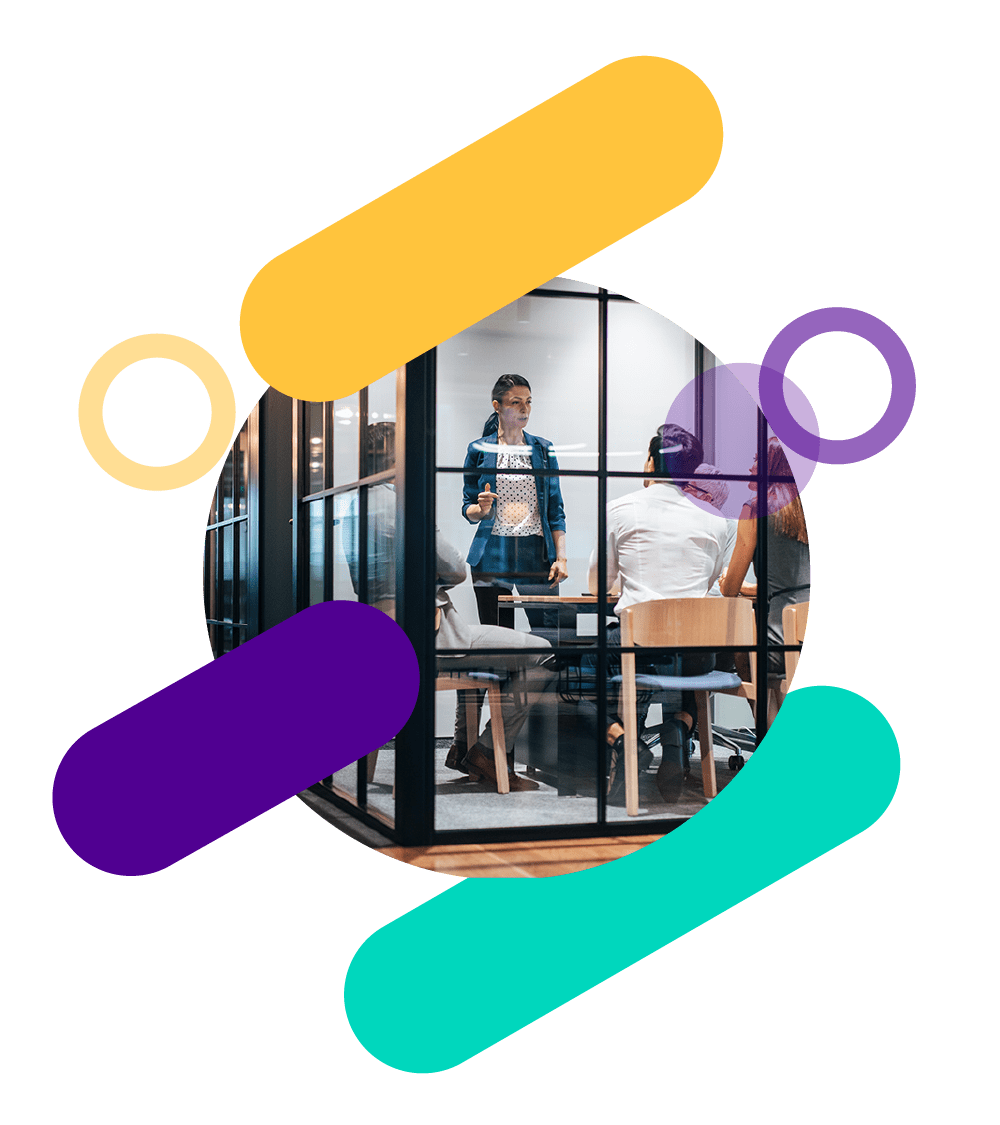 Colt recognises the importance of contact centres
Colt understands these challenges and we have brought industry-leading connectivity together with the market leaders in CCaaS and digital transformation services in a single relationship, to create our cloud contact centre solution.
Together with Atos and powered by NICE CXone, we offer an easy to deploy omni-channel solution that provides you with the tools and data-driven insights to support your customer experience strategy and organisational outcomes, with a productive and fully remote workforce.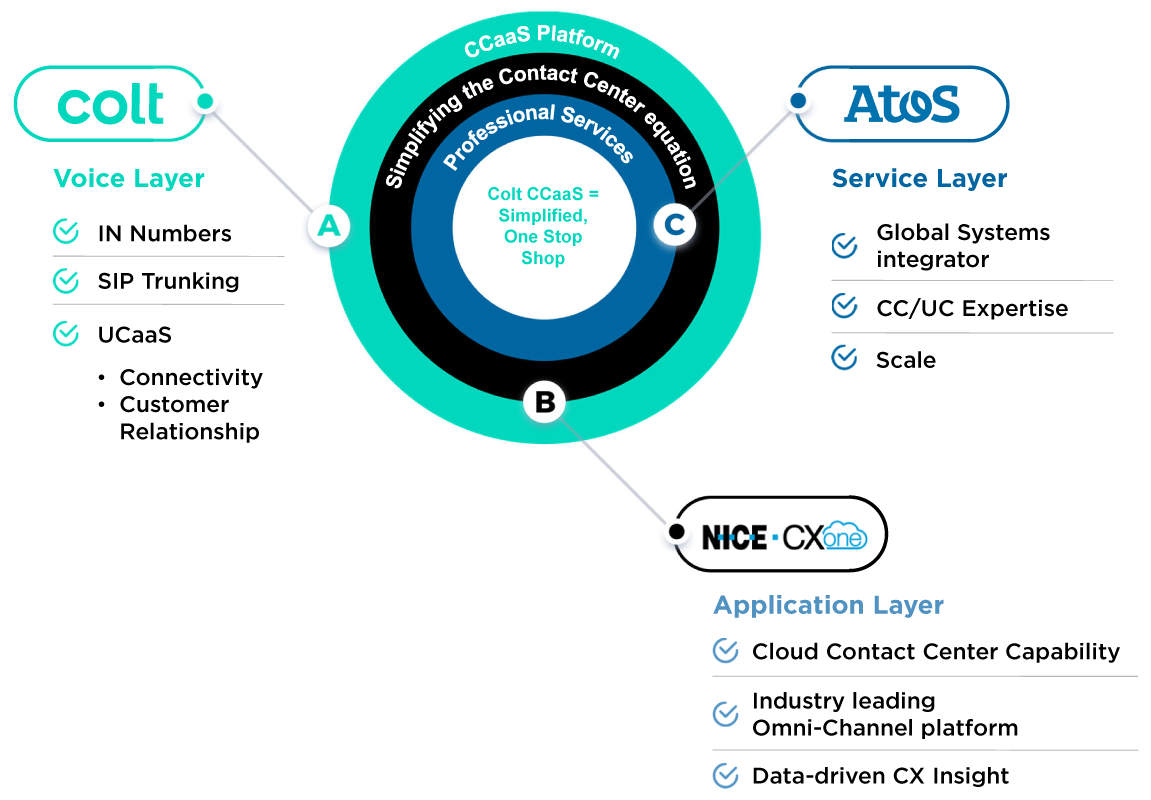 Moving to Colt CCaaS is a very simple process. We have experience in providing seamless contact centre migrations, no matter your existing solution, through our 4-step process: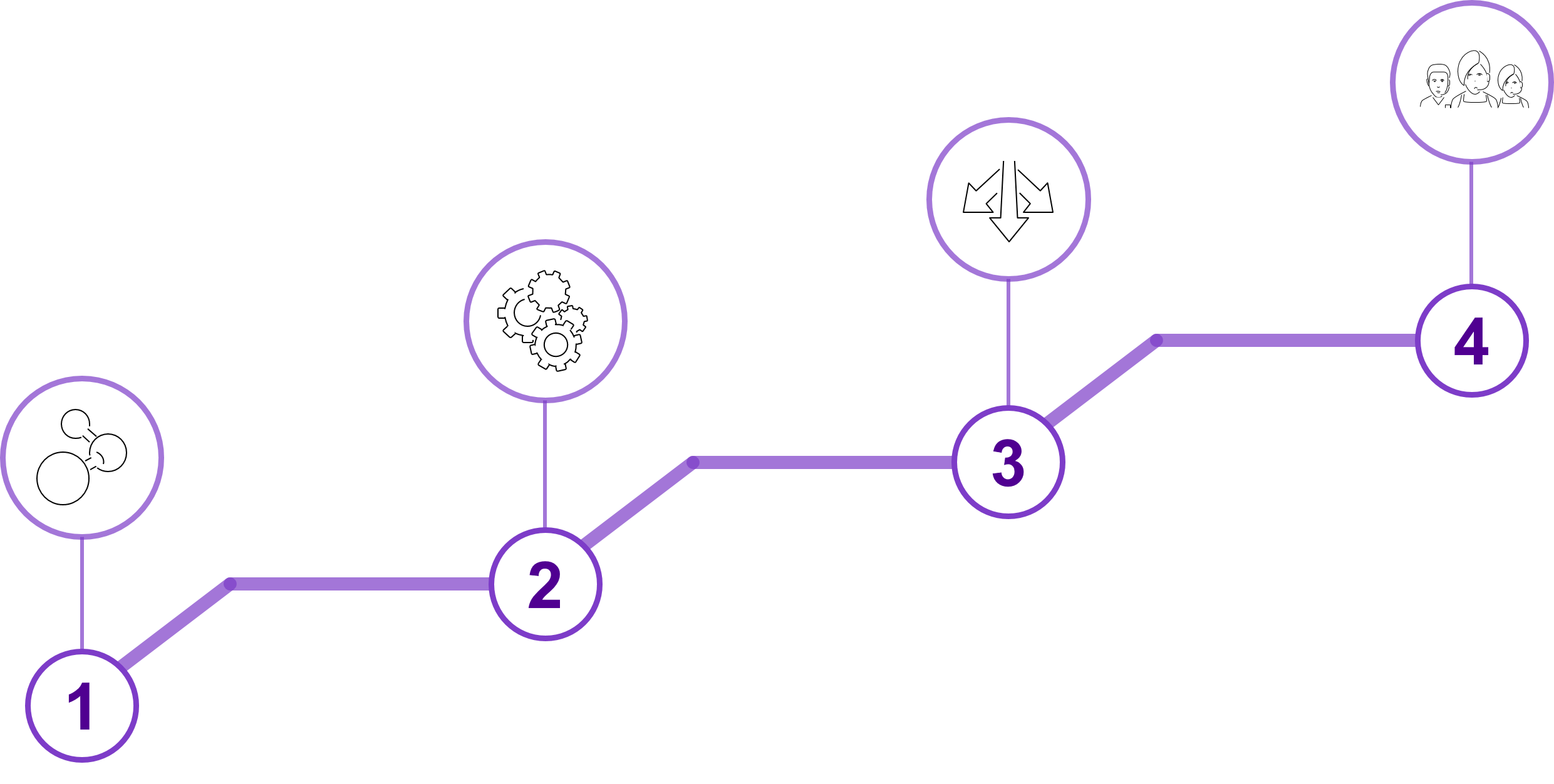 And that's it! You will be up and running with Colt CCaaS, so you can start building meaningful relationships with your customers, and enable your agents with the tools, to work effectively from anywhere.
Whether you have a few or thousands of agents, with needs ranging from basic to complex. We have a bundle for you, which you can customise to maximise the value for your organisation.
Below are examples of how we can support you:
Choose from 7 bundles to get started, then add on extra options and integrations, to maximise the value for your organisation.
Configured licenses enable specific Agent and Supervisor user accounts to be setup on the platform for individuals
CXone Omnichannel
Call Center
Chat & Email (NICE inContact)
CXone Contact Center Global
Chat & Email (NICE inContact)
CXone Contact Center Advanced
Chat & Email (NICE inContact)
CXone Contact Center Complete Classic
Chat & Email (NICE inContact)
Concurrent licenses define the maximum number of Agents and Supervisors logged in at one time
CXone Call Center Global Package Concurrent
CXone Call Center Global Package Concurrent
Chat & Email (NICE inContact)
Omni-channel solution
Delight your customers by enabling them to contact you through 30 digital channels (including messaging, social media, chat bots, traditional voice, email, etc.), whilst giving them the best personalised experience.
All the apps you need
Empower your remote workforce and maximise agent productivity from any location, by enabling them with all the applications they need (including Microsoft Teams, SalesForce, Microsoft Dynamics and more), in one online platform. 
World-class analytics
Take decision making and customer engagements to the next level, with powerful built-in analytics, to measure performance and see real-time insights of your cloud contact centre. 
Next-gen automation
Improve agent productivity and employee satisfaction by automating low-value tasks, and freeing up more time for your teams to focus on what matters most for your business. 
Speak with our experts to get a free consultation.
Submit the form to contact us. For other ways to contact us, visit here.